Hey all
If you are looking for something a bit different this year then this may be the post for you. As much as I like getting fun things for Christmas it's great to get something a bit different than the norm.
1) A planner
I started using a planner and it is one of the best things I have bought in a long time. I bought mine from
Personal Planner
as they have the most customisable planner available, it is affordable and there are tonnes of discounts floating around to save you even more money (so you can buy more gifts for people!) You can choose which month you want the planner to start, what added features you want (like an address book at the back) and you can design the front and back cover yourself or use some of the templates already available.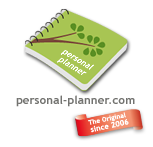 The only downside is that it might take a good hour or two for you to sort it all out and get the look that you want but it is so worth it. The last day for ordering to get it before Christmas is the 6th. Code for 10% off: H-OLID-AY10
2) Travel Mug
The handiest thing to have when it's cold out. It keeps your drink warm and it's safe to bring around with you without the fear of it spilling and scalding yourself. You can get these everywhere but I prefer ones that actually have a lid that almost seals when you put it on. Some of the
Bodum travel mugs
are on sale for €15 in Currys at the moment which is a great deal. It's one of those things that you get so much use out of whether you drive or you take the bus or train but it's not often you think of actually buying one for yourself.
3) Gift cards
I will admit I'm not the biggest fan of gift-cards as gifts. It just screams "I couldn't be arsed looking for something" BUT there are some exceptions to this rule.
Apple iTunes gift cards are incredibly handy. I love having cd's but sometimes I only like one song from an album so I'd sooner just buy that song and save my money. Every fortnight they release a little playlist of songs that cost just 69 cent each and you can get some real gems in there.
Another good one is a book voucher. I think it's easy enough to get a book that someone will like if you just have a browse through their bookshelf or just take note whenever they mention something but if you are stuck then an
Easons
or
Amazon
voucher is the way to go.
Boots
is always a good choice seeing as they are fairly common around the country and they have a great range of beauty, electrical and a whole heap of other stuff available.
4) PJ's
Penny's is the best place in the world for pyjamas. They are THE softest and most comfortable things in the whole entire world. To be honest you don't really need to know the persons exact size, as long as you are in and around the right size you're grand. The selection they have is unreal, you will definitely find something to suit. Plus they only cost between €8- €18 depending on what you are looking for.
That's it for the bits on the side. Hopefully something caught your eye and helps you to pick out some ideas to add to your list this year.